Fencing Types
At Sydney Timber Fencing we offer a wide range of types and styles of timber fencing so our customers can choose the fence that suits their home and property best. Here is an overview of the types of timber we offer. If you have any questions about types of timber available and suitability for your project please contact us at 1800 739 359.
Standard Paling Fence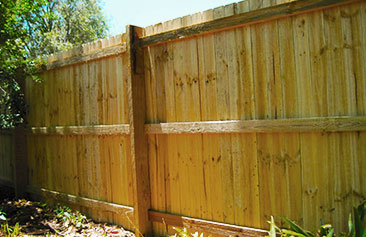 This is the most popular style of fencing in Sydney and usually the most economical. It is constructed from plantation grown CCA treated pine timber. A single "skin" (layer) of 100mm wide palings is used. These palings are chipped on the top corners, butted up against each other and nailed onto 3 treated pine rails which are 75mm deep using Galvanised nails. Once the palings have dried over time, they will have some shrinkage and leave a small gap between the palings, this is normal. The rails are attached to CCA treated pine posts. The most common size post is 150mm x 50mm although this might vary depending on the height of the fence being built. All posts are cemented in place if going into the ground. Posts are treated to a H4 level for in ground use and comply with AS1604. Posts are trenched from the side, not centre mortised, for a better fit and appearance.
Lapped Paling Fence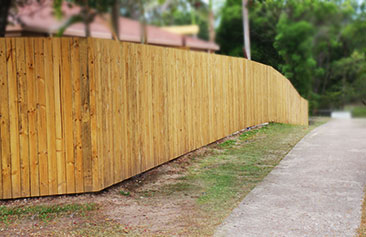 The Lapped Paling Fence has 2 layers of palings which overlap each other to eliminate most of the gaps between the palings. This is important in some situations where maximum privacy is desired. The back skin of palings is usually 150mm wide and the top skin is 100mm wide. This maintains an even space between the top palings to improve the appearance of the fence. There are three 75mm deep rails fixed to H4 CCA treated pine posts.
Lapped and Capped Fence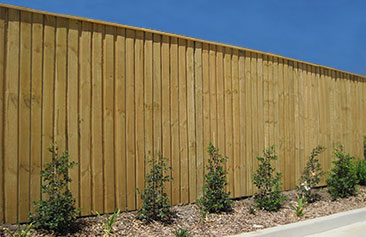 This is a very popular style of fencing throughout Sydney because of its neat finish and appearance. It is often specified as the preferred style of fencing in many new subdivisions throughout Sydney. On a lapped and capped fence 100mm wide palings are used on top to overlap a back skin of palings, usually 150mm wide. This is done to eliminate most of the gaps between the palings and improve privacy. The top of the palings is left square and fit neatly under a treated pine capping that runs along the top of the fence, improving the finished appearance of the fence. A lapped and capped fence is usually built on a CCA treated pine frame consisting of three 75mm deep rails and treated pine posts treated to H4 level for in ground use.
Steel Posts Combined With Treated Pine Fences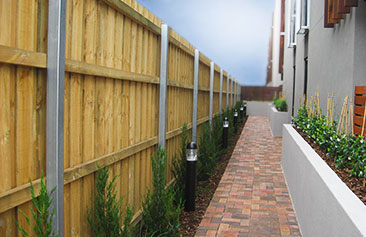 A growing trend is to install treated pine fences on galvanised steel posts. This is sometimes done because there is limited space to install the posts in an existing situation but often it is to increase the longevity of the fence. Good quality steel posts are very durable and don't warp, twist or split like some timber posts can. They have a neat, compact appearance and cannot be damaged by white ants or termites. Steel posts often make it far easier to replace you fence in years to come as you often only need to unscrew the old timber and fit the new fence to the old posts. This is a much quicker and cheaper option to digging up the old posts. The combination of treated pine fencing on steel posts is a great option combining the strength of steel with the look of timber.
Colorbond® Style Fences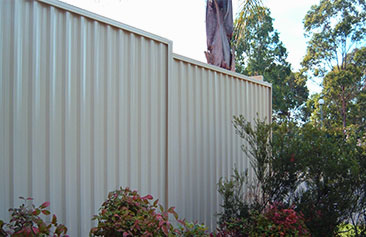 Colorbond® style fences are a fence constructed completely from steel. The steel base is coated with a galvanised or zinc/aluminium layer to protect the steel from corrosion and then painted and baked to provide a long lasting paint finish. There is a variety of colours to suit almost any home. Each panel is usually 2.4 metres long and consists of 2 "c" channel posts fixed back to back. These are connected by 2 steel rails into which 3 shaped sheets are fitted. The panels are most commonly 1.8 metres high. This is a strong, long lasting fence that provides good privacy and security.
Colorbond® Style Fences: Stepped
Because Colorbond® style fencing panels are 2.4 metres long and very little ground is actually flat, it is often necessary to step the panels of the fence to stay as close as possible to the ground. This does leave a "stepped" shape to the top of the fence and often a gap at the bottom of the fence which can be bigger at one end of the panel. This is the most economical way to install this style of fence and the gaps can often be covered with a bit of soil or garden.
Colorbond® Style Fences: Raked
The alternative to stepping a Colorbond® style fence is to "rake" the fence. This involves cutting the top or bottom of each panel to match the contour of the land. This requires starting with longer materials and cutting of part of each panel. This will increase the cost of the fence as it requires both more materials and labour however some people prefer this system as it eliminates most of the significant gaps.
Timber Slat Screens and Fences
Slat screens and fencing is becoming very popular around Sydney. They look smart and modern and can be designed to enhance the design of your home. Slat fences can be built with the slats vertically or horizontally or even on an angle. Slat fencing is usually constructed on strong steel posts which can be powder coated to almost any colour. The slats can be made from CCA treated pine, hardwood timber or one of the newer composite boards made from recycled materials such as Mod Wood.
Gates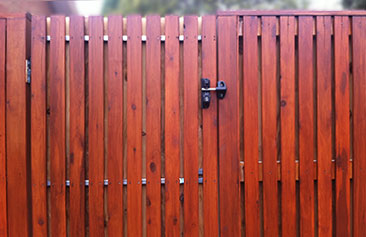 A wide range of gates can be built on site to match the style of your fence. Gates can be either single pedestrian gates or double gates for vehicle access. Gates are normally constructed on galvanised steel frames to which the palings or pickets are fixed using galvanised screws. The is a range of quality hinges and latches which can be used depending on the level of security and privacy required.
Retaining Walls
In urban settings retaining walls are often needed to hold back soil which has been built up during construction or from the building of garden beds or levelling off the land. Treated Pine is the preferred material for retaining walls because of its resistance to white ants and termites. The use of hardwood sleepers in retaining walls is best avoided as it is inviting white ants or termites to establish a nest in your yard. The size of the timber used and the spacing of the posts will vary depending on the height of the wall and the load it is expected to carry. The use of steel posts combined with treated pine whaling is common in larger retaining walls carrying large loads. Retaining walls can often be combined with the construction of the fence to become a single structure.
Picket Fencing
Picket fences are a popular front boundary fence in some areas of Sydney. They are also often used for block offs and returns at the side of a house just to provide a bit of variety or so they can be seen through. Modern materials like CCA treated pine is now the predominant material used for picket fences in Sydney. The timber is usually a high grade timber that has been dressed to give a smooth finish which is easy to paint if required. There are endless styles and varieties of picket fences that can be constructed and they are a great way to lift the appearance of almost any house.
Lattice Topped Treated Pine Fence
Often called Heritage or Federation style fences these are a lapped treated pine fence built to include a panel of lattice at the top of the fence. Constructed from CCA treated pine these can be very attractive fences which are often used to provide extra privacy over the height normally allowed under local council fencing height restrictions. They are often constructed up to 2.4 metres high. The size of the materials and posts will vary depending on the design but the paling section is often 1.5 or 1.8 metres high with approximately 300mm of lattice on top.
Resources
For further information on purchasing environmentally friendly timber for your fence project, see "The Good Wood Guide" below:
The Good Wood Guide: Purchasing Environmentally-Friendly Timber